Upvc door lock smiths Colchester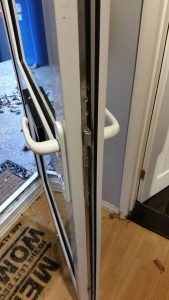 Problem door locks are a common issue with upvc double glazed doors, the multi-point door locks fitted to upvc residential door frames French doors & patio doors can fail and break.
Thinks to look out for which will can cause a lock to fail are a door catching on the locking keeps on the frame which is indicating that the door has dropped out of alignment, this may be due to the door hinges which maybe a quick fix of just adjustments being made to the door hinges, the other issue which can cause a door to be out of alignment is the glazing / glass double glazed glass pane to have moved. This will require the removal of the glass pane and re-glazing in the correct manner of toe & healing.
If your problem door has jammed closed and you cannot open it is likely your lock has broken and you will require one of our fully qualified locksmiths to gain entry to access the failed lock and resolve your door lock issue. Our team of technicians & locksmiths are supplied with a fully equipt van holding a wide range of replacement parts to fix your double glazed door giving you a fully functional door & giving your security back.
Call us at Crystal Clear today on Colchester 01206 430725 and book an appointment with one of our upvc door locksmiths we are here to help or please view our website on www.crystalclearmaintenace.co.uk